Just over a year ago my long-suffering Windows laptop decided enough was enough and stopped working. As writing software is my profession, and it being the only computer I possessed, I was forced to make a quick-purchase decision for a replacement.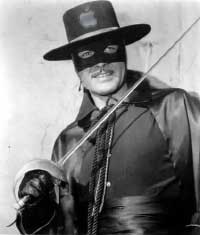 After some research I was going to settle on an Acer TravelMate 8204 laptop, it being a logical progression from my existing TravelMate 800. With money in hand I ventured out and visited a series of computer stores and cubicles in Hong Kong's electronic forest, before returning home satisfied and with a shiny new computer – not an Acer, but an Apple Mac Mini – a major departure from my original plan, and the beginnings of a voyage into completely unexplored territory.
It's over a year now since I first tasted the world of Apple and I thought it would be interesting to write about my experiences, the software I'm using, and why my next computer will almost certainly be another Apple.
It may help to state that I'm not an Apple fanatic. My only other piece of Apple equipment is a much abused iPod Shuffle (old style), and I had only once before used an Apple computer (an unknown Mac desktop, circa 1981).
Since buying the Mac Mini I did have my laptop repaired by Acer (although they lost the PCMCIA cover and broke the onboard speakers), but it's now been relegated to second place, and whenever I do use it, I'm wishing I was back using the Apple.
Note that this is not meant to be another 'top 20' list of Mac software, but just how I personally use some software.
The Setup
I'll admit it right now: one of the main reasons I chose the Mini was that it looks great. It's barely bigger than a handful of stacked CDs, and is almost completely silent. Despite this it has sockets for (almost) everything I can throw at it. The only physical downside is that the PSU is almost as big as the main unit itself, and comes with a mile of brilliant white cable. It's a discrete system, if you can find somewhere to hide the cables.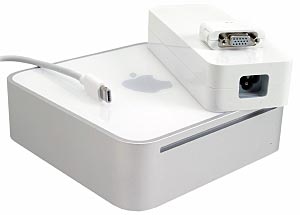 Performance is more than adequate for my needs, and is a big step up from my previous Acer. Many people have complained about the Intel GMA950 graphics chip, but unless you're playing games or doing graphically intensive operations then it has no effect on day-to-day performance. If you do play 3D games regularly then you will be disappointed – my old Acer does a better job.
Another negative is that it's a killer to upgrade. When it was purchased the Mini came with 512MB of memory. Not a bad amount, but after a few weeks I quickly realized this was not enough, and bought the full 2GB. I've put together my own PCs for many years now, but getting into the Mini to install the memory was by far the most frustrating and dangerous experience I've yet had. Style has definitely triumphed of substance here, and the operation involved prying open the case with a meat cleaver (the only tool I could find both thin and strong enough), while trying not to lose a finger or damage the plastic. What I wouldn't have given for a few simple screws!
I have the Mac Mini paired up to a Samsung Syncmaster 205BW. This is a lovely widescreen LCD monitor that connects to the Mini via DVI and gives a bright solid picture with a minimum of fuss.
One other negative is that the Mac Mini has no microphone input socket. If you want to use Skype, you'll need a USB-based headset such as the Logitech 350. Other than occasionally clamping your head like a vice, this works beautifully with the Mac and requires no drivers.
The Operating System: OS X
Being a Unix kind of guy, the underpinnings of OS X certainly suit my mindset. However, unlike other systems I've used, OS X actually looks consistently good. There are a few niggles, of course:
You can't maximize a window to fill the screen (something I frequently do on Windows)
Resizing a window can only be done from the bottom right corner, as opposed to any edge on Windows
Closing a program doesn't really close it, but just removes the window while it carries on running. This strange situation is displayed with innocuous triangles under icons in the dock.

The Software
The quality of software on the Mac is great, and a lot of it is provided for-free as part of OS X itself.
Keychain / 1passwd
Keychain is a system-provided security manager that allows you to store password and other confidential information in a single secure place. Being part of OS X this means that Keychain is integrated with most other pieces of software, which in turn means that you can keep all your logins and passwords in one place, and you only need to remember a single password to access the lot.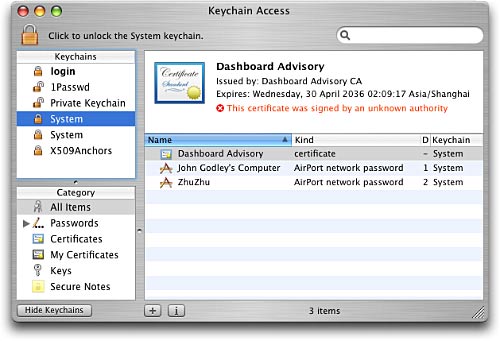 Running on top of this is 1passwd, a browser password manager that manages to integrate the otherwise OS X unfriendly FireFox (as well as every other OS X browser), and stores website logins. This piece of software alone has saved me countless hours of frustration in trying to remember all my website logins, and it means that every login I have is both unique and cryptographically difficult.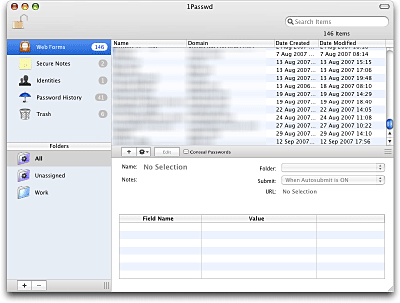 Mail
The system-provided mail client, cunningly called Mail, is a very capable piece of software. Like most other system software it is very well integrated, and it hooks up to both the system Addressbook and the keychain. On top of that a lot of other software makes direct use of Mail, allowing all kinds of neat tricks.
Mail Act On is a Mail plugin that adds a very efficient keyword 'send to'. What this means is that when I'm trying to organize emails I can simply press the back-tick key (`) and up pops a menu: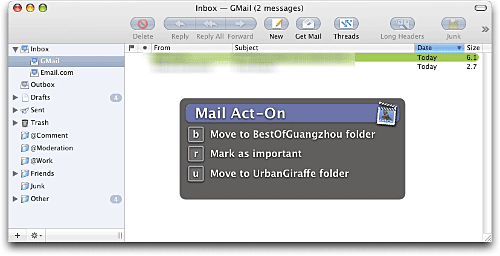 A simple key-press later and I've moved the mail to the appropriate folder. This means I can really plow through a lot of emails and process them in a short space of time. The plugin is not limited to just moving emails, and makes use of the powerful Mail rules system, meaning you can construct some adventurous processing routines from changing colours to starting external programs.
Dashboard
The dashboard seems to be a love/hate part of OS X. For those not in the know, the Dashboard is a special screen that is accessed with a single key, and which is overlaid on the current screen. On this dashboard screen you can add widgets, small programs that provide simple functionality. There are hundreds of widgets available, ranging from clocks to star exploration systems.
I personally make use of the Dashboard a lot. With one key press I can see what time it is back home, I can check on the weather, I can convert money, and I can select a colour for CSS files. One more click and it all disappears again. This fits very well into my workflow.