Inconsistency may be the key word when it comes to the frequency of posts here, but things have been very busy behind the scenes. Unfortunatley my computer, in another attempt to continue it's evil plan for domination, has decided that it no longer needs a graphics chip. At least, that's what I think it's decided. You can see for yourself here: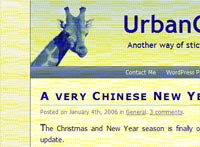 Everything appears to work fine, it's just all under a thick veil of yellow fog. I've had the laptop in pieces and poked and prodded to see if anything was loose, but with no change. This actually happened last year, but a full recovery was made. Now I'm suspecting that my computer is very near to biting the bullet, and that I should seriously consider finding a new one before it explodes. Ouch.
Anyone had a similar experience and know of a quick (and cheap) fix?