TextMate
OS X is blessed with many great text editors, and the current 'big battle' is between BBEdit and TextMate. I've tried both of these editors and found BBEdit was just too much. The menus were crammed with things I didn't use, and it didn't connect with me at all. TextMate is the new kid on the block and while initially it made no sense, once I understood how it worked I was flying.
The power of TextMate comes from its extensible bundles, snippets, and languages feature. These allow you to use and create a large set of processing commands that are specific to both the type of file you are editing, and the context within that file. For example, when editing a PHP file you often need to insert HTML. In TextMate you can do this by pressing CTRL+SHIFT+W:

A default paragraph is created for you. Any further text typed will appear immediately inside the HTML tag. Note how the end tag is automatically changed for you:

It's a simple idea that is taken to the extreme. All language and context functionality is fully editable, and a large library of existing 'bundles' already exists. This library is maintained independently of TextMate.
While this example may not seem unusual, the idea is that rather than presenting hundreds of buttons, or a menu with hundreds of options, a simple set of keystrokes is used that provides the basis for everything. This does make TextMate a very keystroke-heavy program, but if you're editing the same kinds of files regularly then it quickly becomes second nature. If you're coming from a VI/Emacs world (as I was), then it fits all the better.
QuickSilver
QuickSilver is one of those programs that is difficult to understand what it does, but when you do, it's hard to imagine not having it. It's a jack-of-all-trades that sits silently until called into action by a keystroke: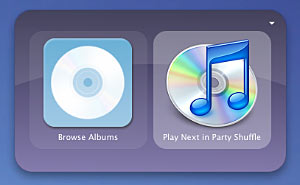 Once active it then allows you to do a variety of tasks from the keyboard. This can range from simply starting programs (by typing the first few letters of the program name), to sending emails to specific contacts in your address book. The idea behind QuickSilver is that it gives you the ability to do things with minimal interference to whatever else you are doing.
I've had great success automating the release of WordPress plugins by selecting the plugin directory, using QuickSilver to zip it, then using QuickSilver to upload it directly onto my website. What used to take me several applications and a few minutes now takes a few keystrokes and QuickSilver.
Just like TextMate, QuickSilver doesn't present you with a complicated interface, but instead hides functionality behind a simple process. It is also keystroke-heavy, but you quickly learn the commands most useful to you (and there are plenty of video tutorials showing you features you didn't know existed).
VMWare Fusion
Apple's move to Intel chips opened up lots of opportunities, and one of these is the ability to run virtualization software. VMWare is the long-running champion in this market and they've been around on Windows and Linux for a long time. Fusion is their first OS X release.
Virtualization is the process of running virtual computers. The virtualisation software creates a special virtual computer, complete with virtual hardware, which then allows you to run and install other operating systems inside the virtual machine. As far as the virtual machine knows, it is a fully operational computer. As far as you know (or care), you get the ability to create machines that natively run Windows or Linux.
Performance is naturally not 100%, but it's pretty close and more than fast enough not to notice any real difference. A killer feature is the Unity mode, which takes Windows application out of the virtual desktop and puts them alongside other OS X programs. With this running you need never know where your program lives.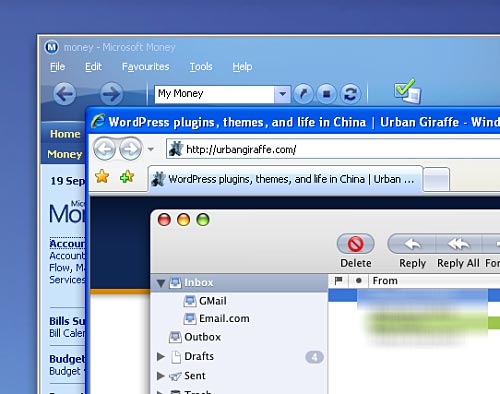 Fusion is perfect for testing websites on Internet Explorer. I have one virtual computer running IE6, and another running IE7. I also use it to run Microsoft Money. It should be noted that while virtual computers are not real, the memory they require is. You'll get much more mileage out of Fusion when your Mac is stuffed full of memory.
OmniOutliner / iGTD
OmniOutliner is another it-looks-great-but-I-don't-know-what-it's-for Mac tool. At its most basic, it allows you create and organize lists of information. I use it primarily as a brain-dump repository where I quickly enter and organize thoughts and tasks without much fuss.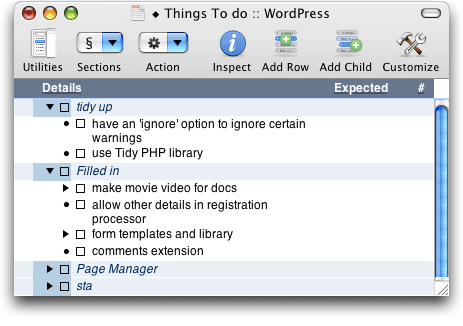 While this doesn't look anything special, the best thing about OmniOutliner is how easy it is to use. Entries are added by pressing return and typing. If you want to indent an entry (making it a child of another entry) then just press TAB, if you want to move a child entry back up a level press SHIFT+TAB. This is an incredibly simple data-entry system, and it suits rapid ideas and tasks. I've used it to keep track of bugs and new features, at the same time as maintaining a shopping list, movies I want to watch, people I need to talk to, and so on. Data flows freely.
Recently I've been moving my tasks across into a more specific tool called iGTD (Getting Things Done). This is much more focussed as a task organizer. It also has a great hookup to Mail, allowing me to read a new mail item and then, via a quick F6 keypress, have it immediately entered as a to-do item. A link is preserved between the to-do item and the mail message, and I can then archive the mail and move on (although a bug in iGTD does cause things to go screwy if I then try and access the message from iGTD).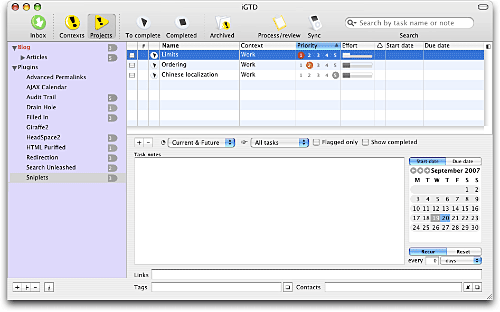 CocoaMySQL
As a developer I'm constantly digging around inside MySQL, and I was using phpMyAdmin to make this a little more pleasant. However, while it's a very full-featured product, it can be quite slow, and I was always having problems with character encodings. CocoaMySQL is a Mac-specific application that provides similar functionality, but is a lot faster, and makes the whole process of using MySQL a lot nicer. One additional benefit is that it always handles character encodings properly.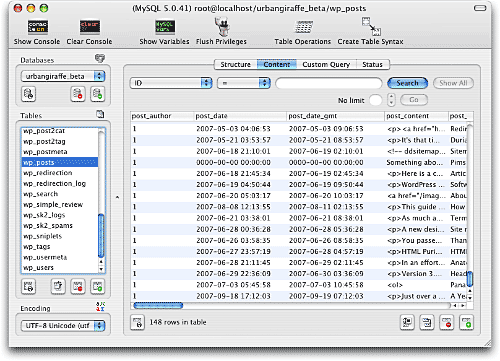 Not only does it work with local databases, but by using an SSH tunnel I can manage databases on remote websites. This is where using a native application pays off dividends, making the process so much faster than with phpMyAdmin.
ssh -NC user@mywebsite.com -L 8888:mywebsite.com:3306
Unfortunatley the program is not without problems, and it has a variety of bugs that cause it to lock up at inopportune times. It also appears to be single threaded, and any lengthly operation will freeze the entire application (without the ability to cancel). Development on the project is painfully slow, which is a shame as it's a really nice program.
AppleScript / Automator
These are two pieces of system software that I've only really scratched the surface with, but offer huge potential. I'll start with AppleScript, which is Apple's long-standing system scripting language. Most applications have some form of AppleScript access which allows you to construct custom scripts that control your computer. For example, a Mail rule can be created which, upon receiving a certain email, will kick off an AppleScript that will download and archive a website. This is all achieved through an English-like script language.
Automator is a nice tool that sits on top of this and allows you to create simple scripts with a GUI.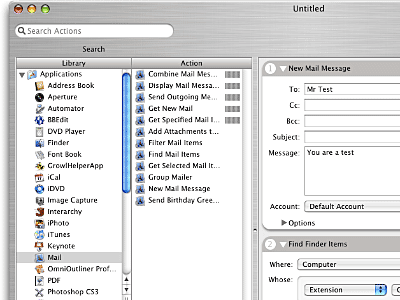 Applications need to provide Automator with actions, and the system comes with a good selection of pre-made actions (as do most major applications). Additional third-party actions can be downloaded, such as ones for Photoshop.
A nice extra feature here is that you can attach both AppleScript and Automator projects to directories so that the script/project will automatically run should you place a file inside the directory. Imagine the scripting mayhem you can create!
Dictionary
This is just one of those small but-oh-so-impressive things. In most applications (but not FireFox, alas), you can summon a pop-up dictionary by pressing CTRL+APPLE+D, and hovering over a word: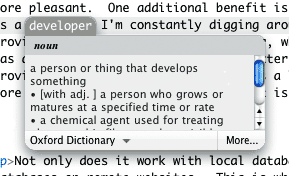 Not something for everyday use, but a great feature all the same.
Conclusion
One of the over-riding features I've noticed about OS X and Mac applications is that they are generally less cluttered, easier to use, and more integrated with each other (I haven't used Windows Vista, and this is not a Windows/OS X comparison). While it's a highly subjective measurement, I do feel like I spend less time worrying about how to use applications, and more time spent doing the things I want to do. On top of this, it's just plain old fun! There's no denying that the cost of an Apple system is generally higher than the cost of a normal PC, but it's a price difference I'm prepared to pay.