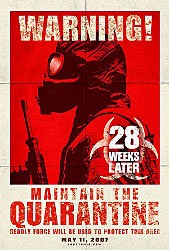 I'll admit a certain liking towards end-of-the-world movies. For me there's something irresistible in seeing what happens when everything goes wrong and Bruce Willis doesn't manage to save the day. It was with delight that I watched 28 Days Later, a 2002 movie by Danny Boyle and Alex Garland about a horrible blood-spitting disease that strikes Britain. Maybe it was the bleak London vistas, maybe it was the unrelenting music and in-your-face video, or maybe it was just the fact that it was a great budget movie that packed a big punch.
With this in mind I looked forward to 28 Weeks Later, the sequel, with great anticipation. Both Danny Boyle and Alex Garland took a back-seat this time, leaving the movie to Juan Carlos Fresnadillo. The story starts 28 weeks after infection, and we are introduced to a Britain where the infected have all died of starvation. The American army has been called in to take control of the situation and reintroduce the surviving population back. Gone are the original actors, disappointingly with no indication about their whereabouts. Instead we have Robert Carlyle and his family as the main protagonists, as we follow them into London, entering a survival centre, and then escaping the aftermath as a good situation goes badly wrong.
Like the original, the movie is aggressively shot and designed to put you right in the front of the blood-splattering action. Gore does exist, sometimes to an excruciating extent, so it's not for the easily troubled. Other than that the movie has everything it should (including the obligatory shots of a damaged London), but overall it isn't as effective as the original and you cannot help but be annoyed at people for doing exactly the thing you know they shouldn't.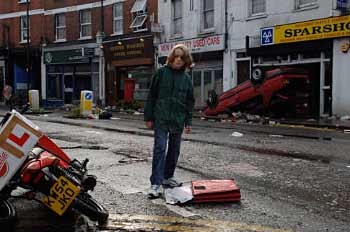 It's always interesting to note disbelief about certain aspects of a movie, especially when the main story is fantastical in nature. People gloss over the technicalities of alien space travel, but complain about the sound of an explosion in space. I'll attribute this down to human nature, and add one of my own. We are lead to believe that the American army is in full control of the clean-up and have rigorous security procedures in place in case of any possible outbreak. And yet, when a situation does develop, the security procedure seems to consist of locking all the disease-free people in a room, switching the lights off, and not bothering to check the outside door. This is a plot device I would gladly have seen removed.
The movie ends on a very dismal note without any of the originals optimism. Despite the sometimes awkward plot, and the occasional lack of anything happening, you are left with a sense of wanting to know what happens next. Danny Boyle has indicated that a 28 Months Later is planned, with himself returning as director. Hopefully then we'll have a more satisfying conclusion.
If you like a bit of post-apocalyptic fury then 28 Weeks Later is one to check out, although make sure to watch 28 Days Later first to see how it should have been done.