I've been introduced to a lot of Czech food recently, courtesy of some Czech friends, and it's been a fun (if sometimes weird) experience. It's also given me the opportunity of visiting real local-style places. I haven't quite decided what the criteria for distinguishing a 'local-style' place is yet, but if it's in anyway intimidating then it almost certainly counts.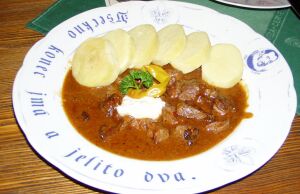 The food I've been served reminds me a lot of the food I used to eat in England as a child: heavy, meaty, and simple. Popular foods here are dumplings (potato and bread varieties), meats and meat sauces, bread, cabbage, and cheese.
Fried food is far too popular, and a meal may consist simply of fried mushrooms, boiled potatoes, and some tartar sauce. Tasty, but not particularly healthy.
As an unconfirmed vegetarian it can be a frustrating experience, although there are some notable exceptions (the excellent Radost FX being one).
I've had some pretty unexpected surprises. For some reason, eating spinach with cream is very popular here. Now I love spinach on its own, but with cream? Using my basic understanding of Czech I ordered what I thought was a spinach pizza. The menu mentioned spinach (spenat) and cream (smetana), but I figured it was spinach, with some sort of sour cream in a small side dish. Alas not, it simply meant spinach and cream. It would actually have been alright if it hadn't been for the raw egg placed gently on top. I missed that word entirely!
My Czech again tripped me up when I ordered a potato and chicken roll, only to discover that the chicken was rolled over liver, and the potatoes were the vegetable side dish.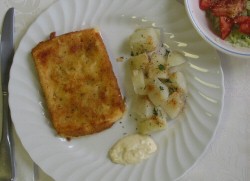 One dish I haven't yet tried is fried cheese, or smazene syr*. I don't like passing judgement on something untasted, but instincts suggest that taking a piece of cheese (which, let's admit, is mostly fat) and then frying it is not the most sensible thing. And yet the Czechs swear by it.
Today included a particularly interesting excursion to a 'hard-core' locals pub. The place was very well used, everything had a sticky battered feel, and the clientèle were all dusty construction workers. The food was… uncomplicated.
What is kind of sad is that this traditional food has almost died away in England. When I was young there was nothing unusual in eating stew and dumplings, roast potatoes and chicken, or some other traditional dish. Nowadays there's a myriad of foods from around the globe, pre-prepared instant meals, frozen meals, and many other conveniences. Don't get me wrong, I like eating all these different foods, and I'd do (almost) anything for a good curry, but something seems to have been lost. The food revolution that dragged people from the awful post-war meat and boiled veg to the current multi-cultural cuisine has resulted in a lot of English people no longer knowing what English food is. Everything is one big American-Italian-Indian-Chinese melting pot.
The Czechs really enjoy their food and are proud of it, but I can't help wonder if they'll suffer the same globalisation of food that has killed traditional food in England.