I've noticed a couple of the contacts on my MSN list have started displaying 'http://msncheck.41m.com – free way to check who blocked and deleted you on msn'. Naturally I went to this website to investigate and found that it promised the ability to check if anyone has blocked or deleted me, provided I gave my msn username and password.
Now there is no way I'm giving my username or password to anyone, let alone an unknown website. However, I was curious as to what would happen if I did. I tried the website with false information: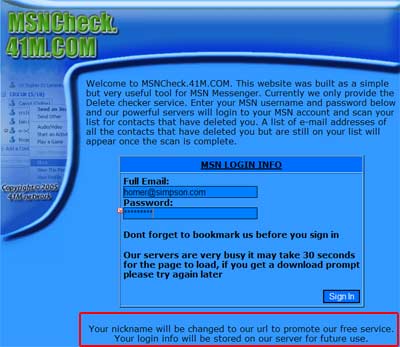 Note the 'your login info will be stored on our server for future use*'. This is the closest to any sort of privacy statement and/or website intent.
It then told me that it couldn't connect to my account (not surprisingly), and attempted to install a search bar. Ouch. All of this leads me to one conclusion: it's some sort of viral scam.
I may of course be wrong, but the way I see it working is this. You enter your details into the website which then stores them for future use*. Meanwhile, the website logs into your account and changes your name to contain a link back to the website (while putting adverts onto your computer with the search bar). Now all your friends will see the website's address and will probably also click on it. And so the website spreads.
Digging a bit further I find that the site has been registered to the following individual:
41M
41M – (sam@41m.com)
+1.-
Fax: -, +1.-
1212 AIM st
AIM, CA 0000000
US
Would you trust those details?
My own opinion is to avoid this website. At the end of the day, does it really matter if someone has blocked you? If they have then what are you going to do – tell them you know and force them to talk to you?
Whether the website does allow you to check for blocked/deleted friends I don't know, but I do know that once they have your password they have full access to your email and can probably extract other passwords and account details that might be stored there. This could potentially give them access to much more sensitive data. If you (or any of your friends) have entered details here then I would advise you change your password pronto.
* Future use being something bad
Suggested solutions
If you have already signed up for this service, and downloaded the 'search bar', then there are a couple of things you can do to clean your system out:
Change your password and password hint immediately
Run a Spyware/Trojan/Adware detection program:
Run a virus scan