WordPress Preparation
Our configuration of Apache and MySQL is now complete and we can turn our attention to the important part: WordPress.
There are two ways to install WordPress:
Install a fresh copy of WordPress on a clean database
Create a duplicate of an existing WordPress installation, complete with posts
Regardless of which you want, we need to do two database tasks before we continue.
Create a WordPress database
Create a WordPress database user
Both of these tasks are performed from within phpMyAdmin.
Creating a database
Creating a database is very easy with phpMyAdmin. From the front page enter the database name in the MySQL section:
Here I've given the database a name of 'wordpress'. If you are duplicating a live site then use the same name you have on your live database.
Once you click create you will be told that a new database has been created and the left menu should be updated to contain this database. That's all we need to do.
Database user
We shouldn't use the root account for WordPress, so here we create a new user. If possible our new user account should match the one used on our live WordPress installation.
Go back the phpMyAdmin privileges screen and this time select 'add a new user'

Now enter the details for your new WordPress user. Make sure to set the 'host' to 'local' – this ensures only our local machine can login as the user. Don't add any global privileges.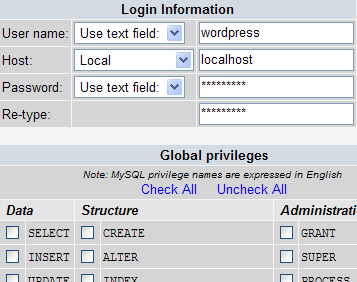 Here I've created a user called 'wordpress' and given it the password 'wordpress'. If you are creating a duplicate of a live site then set the username and password to whatever you use there.
Next we need to add privileges for this user to access the WordPress database. On the returning screen is a 'Database-specific privileges' section:

Select the WordPress database from the drop-down list. The screen will then refresh and you can select 'Check All' to give the user full access to the WordPress database.