Configuring MySQL & phpMyAdmin
Before we can install WordPress we need a small amount of MySQL configuration. The WAMP installation creates a default MySQL root account with no password, and we should change this.
The simplest method is to use a tool called phpMyAdmin. This is a PHP interface to MySQL, and is also installed by WAMP. You can run phpMyAdmin from the WAMP menu. Once your browser loads it will contain this screen: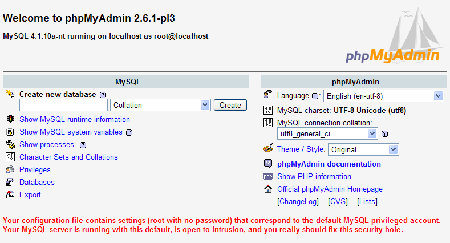 Note the warning at the bottom – this is because root has no password.
Let's add a password by clicking on the 'Privileges' link. From the privileges screen we can add and delete users, as well change the privileges and passwords assigned to existing users. We want to edit the 'root' user, so click the 'edit' icon on the far right of the user root.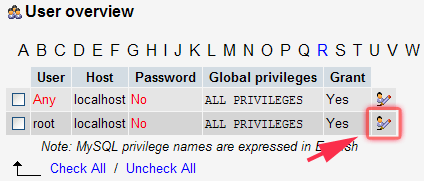 There will be a lot of information on the edit privileges screen, but we are only interested in the Change Password section:
Enter an appropriate password, enable the circle next to 'Password', and then click 'Go'.
Now that we've changed the root password, phpMyAdmin no longer has access to MySQL. If we try and do anything else we get an error:

This is just what we want. Now we need to update phpMyAdmin to use the new password. Edit the file config.inc.php located in phpMyAdmin directory of our localhost document root. If you used the defaults at installation this should be C:wampwwwphpmyadminconfig.inc.php
Scrolling down a page or two you should find this section:

  $cfg['Servers'][$i]['user'] = 'root'; // MySQL user
  $cfg['Servers'][$i]['password'] = ''; // MySQL password

Enter your password between the quotes:

  $cfg['Servers'][$i]['user'] = 'root'; // MySQL user
  $cfg['Servers'][$i]['password'] = 'mypassword'; // MySQL password

Now when you return to phpMyAdmin both the warning and error will have disappeared.