Checking it all works
Now everything is installed we should check it works. When WAMP is running it places an icon in the system tray, with which we can monitor the status of Apache and MySQL. If this has not already started then you should start it by running 'Start wampserver' from the Wampserver section of the start menu.
Once WAMP is running we have this: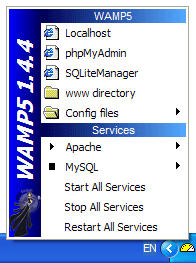 This is very comprehensive tool and contains nearly everything we need to control and manage the system. Unless you chose to have the software automatically start you will need to manually start things by choosing 'Start all services'. This will take a few moments to complete.
You can test the system by opening a browser and entering 'localhost' as the URL. Every computer has two addresses that refer only to the computer: localhost and 127.0.0.1. These are known as the loopback addresses, and they internally loop back to the computer.
If you have firewall software installed then it may issue several warnings: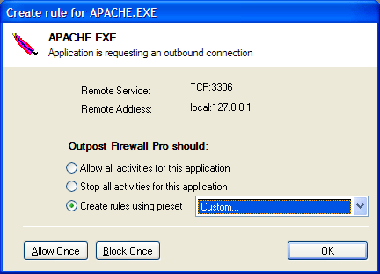 You need to allow Apache and MySQL to communicate with each other (MySQL defaults to port 3306, as shown above). Note that access need only be given to the loopback address 127.0.0.1. You should not grant access to external computers.
If all goes well your browser will shortly display this: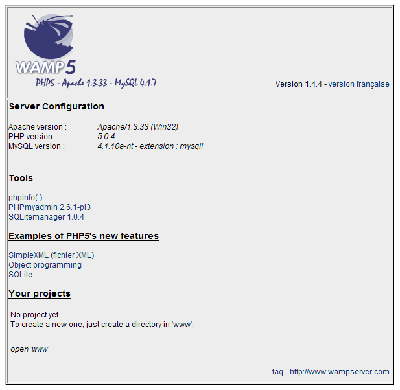 Welcome to your very own webserver!