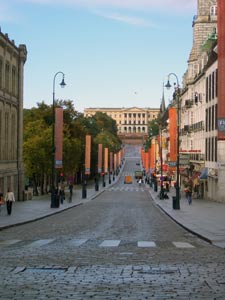 After a long hiatus I am back in Prague, and it's feeling good. Norway was a fantastic country to stay in. The countryside was, to use a ropey-old expression, drop-dead gorgeous. The people were very friendly, and I enjoyed myself a lot. Living in a hotel for so long did have its downsides, and I don't miss that at all, but I succumbed to a reward scheme and have earned myself enough points to stay somewhere lovely.
My previous impressions of Oslo were more or less accurate, but I will update them here. The most important thing is that yes, Norway is indeed an expensive place. Even compared to London. When you look at simple items such as a stick of chewing gum or a can of coke, and find that they are up to five times more expensive, you start to take notice.
A curious fact is that even though the population of Norway is only 4,604,800 (half the population of London), they have two languages (and possibly more, but the distinction escapes me). Like most places I visited I managed to derive some amusement from words with dual meanings, and particularly enjoyed 'spare bank', 'god parkering', and 'fartering'.
I'll come back to the countryside now. Using the wonderfully named Rent-a-wreck, I hired a car with a Czech friend, and we drove to some mountain in the Telemark area, West of Oslo. The mountain was a tough climb, especially as I had completley the wrong clothes (expecting instead that we would go to a nearby town), and it was very, very, cold on top. Still, there was a stall selling waffles up there, and the view was spectacular.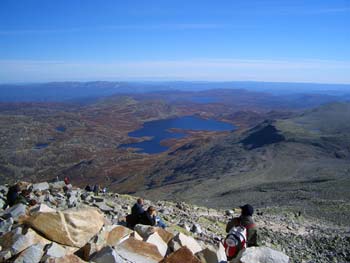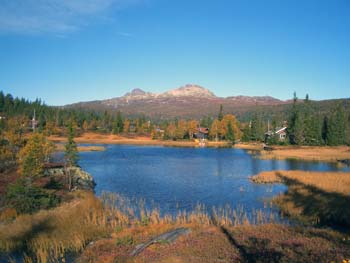 The next day we paid a visit to Lillehammer, home of the 1994 winter Olympics. The town itself is pretty non-descript, but it is surrounded in more of that Norwegian countryside, and we did get to see some young kids training for future games on the ski jump. It was fascinating to watch them rush down the slope and fly into the air, and I realised pretty quickly that there's not a bats chance in hell you'd catch me doing the same.
Did I mention the countryside? It really is very epic, and I can easily imagine Lord Of The Rings being filmed there. Driving to Lillehammer took us by the side of a lake in the middle of mountains. After one hour we were still driving alongside the same lake. Two hours later and there was no end in sight.
A brief weekend back in Prague resulted in the loss of my bags in Vienna, and a thoughtful 'baggage irregularity' pouch from the airline in question. This pouch contained assorted toiletries, and giant t-shirt inside which I could probably have camped.
Upon returning to Oslo the weather had turned very cold, and within a few days it had gone sub-zero. It even began snowing. In October. After discussing this with some Norwegians, it turned out to be pretty unusual for snow to appear so early. Normally it appears in November.
I will finish this posting with a picture from a sad Norwegian tale about a boy and girl that try to cement their relationship, but eventually come undone*.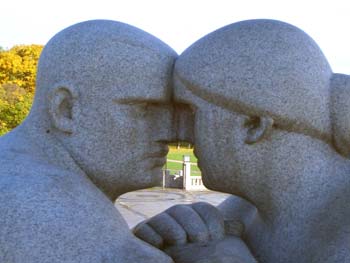 * The jokes are not free