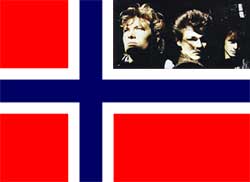 So I've had a few days experience of Oslo and my thoughts so far are:
It's full of shiny new people and things
It's very clean
Oslo has big traffic congestion problems
Norway has a lot of laws
The hotel has free wi-fi access in all rooms – nice!
It is expensive, but no more so than London
I've not seen a fish anywhere (although I think they are just hiding out of sight)
People get called Odd and Even
Most people have an almost perfect understanding of English, and can speak it with very little accent. I've been told that English is compulsory at schools from the age of 8 onwards. I suspect that the similarity in structure of English and Norwegian and Swedish may also be a contributing factor. Whatever the reason, I am in awe.
I met an old Odd guy who says his father tried to assassinate Trotsky when he was living here in Norway
I can once again buy goodies such as muffins and NME magazine. It really is a rock-star life-style I lead.
Enough of the brevity. Oslo, and by extension I will include the whole of Norway, is a great place after three days. It seems a very modern, clean, and efficient city, and is a lot more multi-cultural than Prague. I've had almost no time to explore anything, other than taking part in a pub quiz with a Czech and two Norwegians. The quiz was in Norwegian and, unsurprisingly, we did pretty badly until the music round, which a portly gentleman from Liverpool presented in English.
One thing I found particularly interesting is learning about the local cultural differences. For example, I now understand more about the relationship between Norway and Sweden, and how young Swedes like to come to Norway after school so they can earn a lot of money. It reminds me of the yearly exodus between England and Australia, and a similar relationship between the Czech Republic and Slovakia.
Summer has disappeared now, and the air has turned crisp and autumnal. Hopefully the rains will stay clear at least until after the weekend.
In my previous post about Norway I completley forgot about the undisputed kings of Norwegian music: A-Ha. I was going to explain how great Kent were, but it seems they're Swedish.