I am going to Norway today, for three weeks on business. I've never been to Scandanavia before so I'm looking forward to the trip, and especially to seeing the Norwegian countryside. My flight leaves in about 3 hours and everything is packed (excepting the computer I'm typing this on). I hate this dead-time before a big trip as I'm too jittery to do anything, but too organized to leave everything until the last minute.
People keep telling me that Norway is a very expensive country, and that I should expect to eat a lot of fish. I suspect the first is very likely to be true, and the second may just be a cultural stereotype. I'll find out soon enough!
Anyway, here's the extent of my Norwegian knowledge: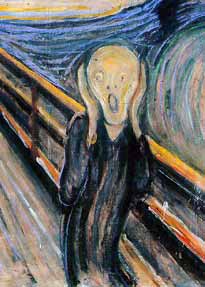 After realizing my passport runs out in a few months, I'm feeling very much like that.