I came across a series of photos at Notes From A Desi Geek that show the amusing-yet-interesting cultural oddities in India. One thought led to another and I arrived at the conclusion that the blog is the perfect vehicle to show all my international oddities discovered on my own travels. I think I am developing a hobby in this respect, as this follows on from a previous post about the best onions in China. Still, photos for amusement sake are fine by me (and I so wish I had a photo of the Chinese shampoo 'Ugly Girl').
Anyway, the first picture is of the control panel on my Chinese microwave. It is innocuous enough until you look closely and discover that an ordinary microwave can possess the power to cause universal discord.
Sadly the actual meaning is 'defrost', but way to go on that translation! A nice touch is the coupling with 'white fungus' – you can either cause havoc, or zap mushrooms (white ones anyway).
The second photo is of some instant noodles, discovered here in the Czech Republic.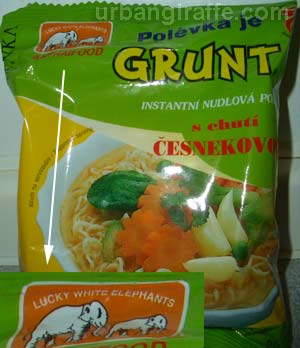 The 'Lucky white elephants' add a touch of class and I can only imagine they are used to provide the flavouring in the tiny sachet.
On a side note I was recently forced into having my picture taken in what I can only describe as a 'weird Chinese photo booth'. These seem to be a phenomenon occurring only in China and Japan, and involve a group of friends crowding into a booth where a computer takes many photos. The group then select from hundreds of different frames to overlay on the photos, and these range from floating hearts to covers of Traveller and Cosmopolitan magazine. The computer works a little magic and spits out a sheet of tiny one inch photos that are printed on sticky paper.
After noticing such a booth, and chuckling over one of the example photos showing a group of guys in a New Woman frame, I was forced inside and had nine photos taken. The frames chosen included such delights as dancing watermelons, cuddly toys, and my favourite, the declaration 'Her smile is so Weet'.
All this to say one thing: you can publish just about anything on the internet.