Freshly returned from Hong Kong, I remembered this photo I took in Zhaoqing, in Guangdong province, Southern China. As far as I can tell, this may be the best example of Chinglish discovered. I should add that I did not go on an onion-smelling tour (the bus actually stopped at a mushroom farm, but that's another issue), and the area was not known for its prize onions.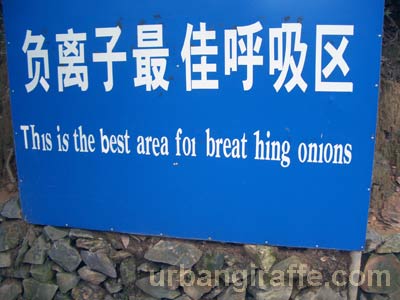 I managed to loose my mp3 player on arrival to HK, which caused much distress, but fortunately it was found by Lufthansa when I returned to the airport. Probably as a product of this, and the fact that gadgets are quite a bit cheaper over there, I picked up an iPod shuffle. A review may ensue.
Other than that I turned 30 and had a super time.