I'm cold. Very cold. For the past two weeks China has been experiencing the worst winter in fifty years. Much of the country has been covered in snow. Living in the relatively warmer climates of Southern China you would expect winter to be a mild affair. Last year it was, but this year the temperatures have dropped to around 4 degrees (daytime). Now this isn't such a low number when compared to other parts of the country, but the important factor is that the South is completely unprepared for such weather. For example, the building I live in has absolutely no insulation, the windows have gaps along the edges, the door leading to the balcony is an interior door, and there is no heating of any kind. The building itself is made of concrete and this only seems to intensify the exterior temperature. I can safely say that this is the coldest winter I've ever experienced – cold, damp, and miserable. Prague seems balmy in comparison.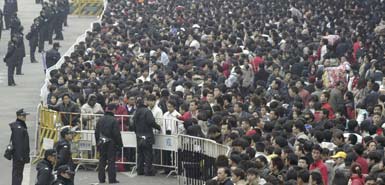 The weather has affected the country just before the main Chinese New Year holiday, and right at the time when millions of migrant workers want to return home. Apparently 500,000 of them were stranded at the main train station here in Guangzhou, due to cancelled trains elsewhere on the network. The situation is so bad that the army was called in to calm the situation. The estimated cost to the country is about 18 billion yuan. Ouch.
All I can say is roll on spring.