Contents
The small bright green box contains:
iPod shuffle
Apple headphones (without a remote control)
Neck attachment, termed a 'lanyard' by Apple
Instructions, iTunes CD, and Apple stickers
The shuffle is small and slim, and can be compared to a pack of chewing gum (although a little thinner, and about 1cm longer):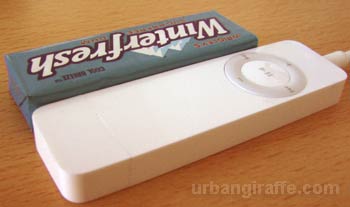 This makes for a very portable player, and one that sits perfectly in your hand, with the control section fitting immediately under the thumb. This is exactly how design should be.
The size does cause problems though, and I've already misplaced it twice, and nearly crushed it once in my back pocket. Attention is needed, or at the very least some sort of tracking device!