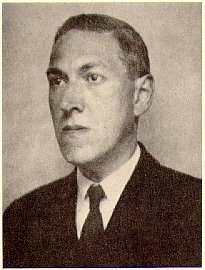 The other week I managed to watch a pretty bad series of horror stories, all wrapped together in a film called The Necronomicon. I knew it was going to be a bad movie even before it started, but I was still looking forward to it because it's based upon the stories of H.P. Lovecraft.
For those unfamiliar with this author, he was a reclusive American writer who wrote in the mid-1920's. His specialty was horror writing, but a horror unlike almost everything else in the genre. If you have any familiarity with Edgar-Allen Poe then you'll know the style. We're talking dark brooding horror, focusing on insanity and the human mind. Lovecraft managed to create his own shadow world which looked like ours, but contained unimaginable evils waiting to break free.
I read his stories as a teen and was struck by just how unique his visions were. They are not always scary, but most are genuinely creepy in a way that I've never seen before or since. The power of Lovecraft was that he rarely described the horror directly, but just suggested it and let you fill in your own details.
The movie is loosely based around Lovecraft's world. The Necronomicon is a book that features in this, being 'the book of the dead' and containing all manner of dark secrets.
Loosely is a very apt term as the movie has little to do with the real stories. The whole story is centered on Lovecraft himself, performing research for his stories. He finds the Necronomicon in a monastery in America, and attempts to use it to further his stories. In doing so he discovers some of the events that happened because of the book. These are shown as sub-stories, with three in total.