Enhances the WordPress media library by allowing you to rename media files.
All resized thumbnails are also renamed.
Why would you use this plugin?
You upload an image from your digital camera with a filename IMG_0112.jpg.
Not a great name really.
Afterwards you change the title of the image in WordPress to 'Sunset With Banana'.
Much more interesting, but the filename of the image is still IMG_0112.jpg.
Using this plugin the filename will also change to sunset-with-banana.jpg, which as well as looking nicer is a lot better for SEO.
Installation
Installation is like any WordPress plugin:
Download rename-media.zip
Unzip
Upload rename-media directory to /wp-content/plugins on your server
Activate the plugin
You can find full details of installing a plugin on the plugin installation page.
How does it work?
It is very simple to use the plugin. When editing a media item just change the title of the item and the filename and all associated thumbnails will be renamed. That's it!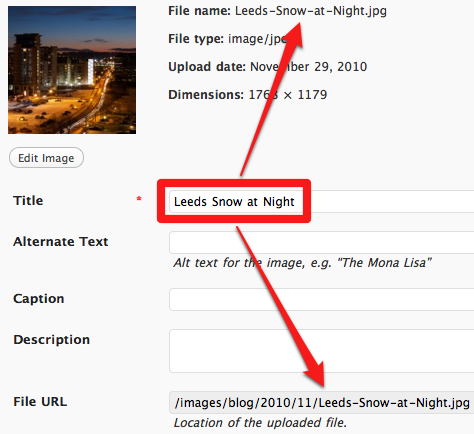 Caveats
The plugin will not update any direct references to a media item that you may have – you will need to change these yourself.
If you use a WordPress gallery then the images and attachment pages will automatically update for you.
If you use a caching plugin such as WP Super Cache then you may need to clear your cache after changing a media name.
Please be aware that your web server will require correct write permissions to your upload directory. If you can upload files then this is likely the case, but the plugin will silently fail otherwise.
Support & Bugs
Support and feature requests should be made through the Rename Media support forum. You can contact me directly but I spend a very limited amount of time on direct support and you stand a better chance of being answered through the forum.