Pings and trackbacks are a way for weblogs to communicate with each other and say 'hey, I talked about your site'. They allow you to see how far your site has spread, and exactly who is reading your content. By default, WordPress mixes pings and comments together, clogging up the conversational flow and making it hard to follow what people are saying.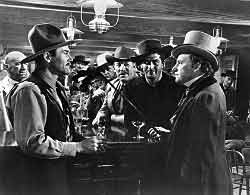 This guide is another in the Inside WordPress series and will show how to separate comments from pings and trackbacks. Unfortunately this is not as straightforward as it could be, and no solution exists that doesn't require some PHP coding and a modification to your theme. This guide will attempt to provide a clear and simple solution to separating comments and pings. It will will be written from a beginners perspective, and will assume a familiarity with HTML and PHP, although full details will be given at each stage.
By the end of this guide you should be able to go from this: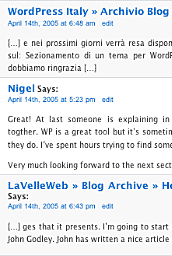 To this: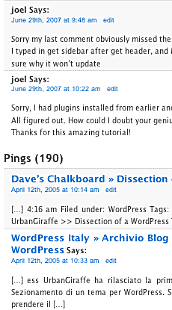 Much easier to read!