Hard drives. From my first exciting 20MB drive to the 1TB beast now keeping my backups. And where you have drives you surely have drive enclosures. Here I'll be looking at the shiny silver and white Icy Dock MB662 RAID enclosure.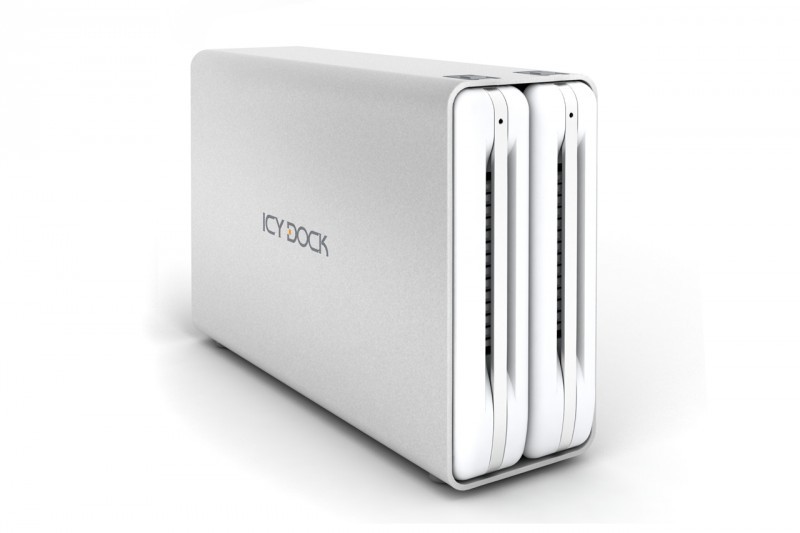 The MB662 is not a complicated NAS storage system. It has no web server, no iTunes software, no ethernet port or media server. It does however have a couple of flashing blue lights and this list of features:
Supports 2×3.5″ SATA I/II drives
Up to 4TB capacity
USB 2.0 + eSATA (Silicon Image 5744 chipset)
Hardware RAID with six settings
No software required
Screwless design
40mm adjustable speed fan
Hot swappable
Compatible with Windows and Mac
Supplied with USB and eSATA cables
For this review the MB622 was supplied by Icy Dock and is available to buy from Amazon.
One thing for sure, the Icy Dock MB622 is a very solid piece of kit. In fact, you could probably use it to smash a few rocks. The silver casing is made out of one piece of aluminium, with a metal back plate, and two plastic drive doors on the front. The doors are the least sturdy part of the enclosure, feeling both wobbly and plasticky. However, as you are unlikely to be swinging from them this is less of an issue, and when closed you don't even notice.
The back consists of a large protruding fan with speed setting, an eSATA and USB socket, a locking hole, a power socket, on/off rocker, 'reset' switch, and a series of 3 DIP RAID switches.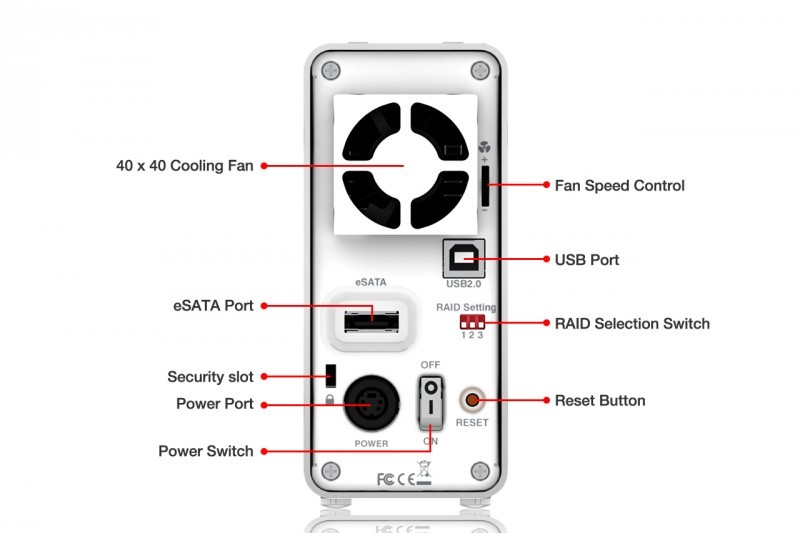 Most of these sockets and switches are self-explanatory. The RAID DIP switches control the RAID mode:
JBOD – drives are independent and show separately
BIG (RAID 0) – Both drives are combined into one big volume
Fast (RAID 0) – Both drives are stripped together into one big volume, offering the same capacity as BIG, but with increased speed.
Safe (RAID 1) – Both drives are mirrored, providing duplicate data on both drives
Safe 33 (RAID 1) – Like the standard Safe, but only 33% of the drives are used for RAID 1, with the rest being used for RAID 0
Safe 50 (RAID 1) – As expected, 50% is RAID 1 and 50% is RAID 0
The fan speed can be changed using a 'volume' control. This control seems to have a fair amount of range, with a lot of it having little effect. While it is great to be able to adjust the noise of the unit, there is no indication as to how this affects the temperature of your drives. Essentially you'll need to a pick a noise level you are comfortable with (i.e. the same as your computer), and hope this won't cause overheating.
Icy Dock describe the unit as having an anti-vibration design, which does seem to hold true – there was no rattling during the testing.
Talking of temperature the enclosure itself barely seems to register any change and effectively acts as a big heat sink. The power supply, like most supplies, gets hot quickly and stays hot regardless of whether the drives are in use.
Inserting Drives
This is almost too simple. At the top of the enclosure are two inline switches which, when pressed, pop open the front doors. Pulling the door down will engage a lever system that pushes any existing drive out of the sockets at the back. Inserting a drive really consists of aligning the drive sockets to the correct side, sliding the drive in, and closing the door – all connections are made. Super stuff.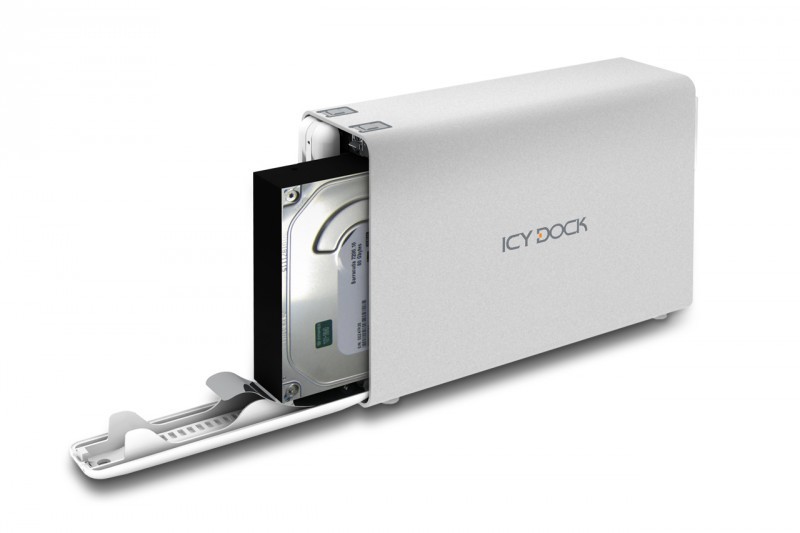 Performance
Sequential Read (MB/s)
Sequential Write (MB/s)
Random Read (MB/s)
Random Write (MB/s)
Icy Dock MB622
1TB 3.5″ Samsung
USB (JBOD)
32.02
26.81
17.92
27.87
iMac
340GB 3.5″ WD
SATA
106.67
104.58
26.45
74.58
Generic casing
40GB 2.5″ Fujitsu
USB
36.07
32.11
15.77
12.35
All results taken from XBench and averaged over five readings.
So quite a surprising result. As expected the internal SATA drive is significantly faster in all respects. The 2.5″ PATA drive out-performs the MB622 in sequential tests, but is noticeably slower in random speed tests. A comparison with drives over at Small Net Builder shows that these results are maybe not so unexpected. Note that other RAID settings will probably give different results.
Unfortunately I don't have an eSATA connection, so no results there.
Noise Level
An important factor for anyone considering placing the enclosure in an office or bedroom is the noise level. Naturally this will be affected by your choice of drive.
| | Full Speed | Low Speed |
| --- | --- | --- |
| 3cm | 65dB | 44dB |
| 50cm | 37dB | 29dB |
| 1m | 32dB | 28dB |
At close range the full speed fan is very noisy and, even though the results above suggest otherwise, is noticeable across an average sized room. At the lowest speed the noise is only detectable at close distance.
As mentioned before, there is no indication as to what speed is recommended to cool a drive.
Note that these results are not produced under studio conditions and are just meant to give a representation of the noise levels.
Other Details
| | |
| --- | --- |
| Weight | 824g (without drives) |
| Height | 134.62mm |
| Width | 60.96mm |
| Depth | 205.74mm |
| Product Page | MB622 |
| Product Datasheet | Datasheet |
| Product Manual | MB622 Manual |
The unit is supplied with both USB and eSATA cable, power supply, manual, and MB622 enclosure: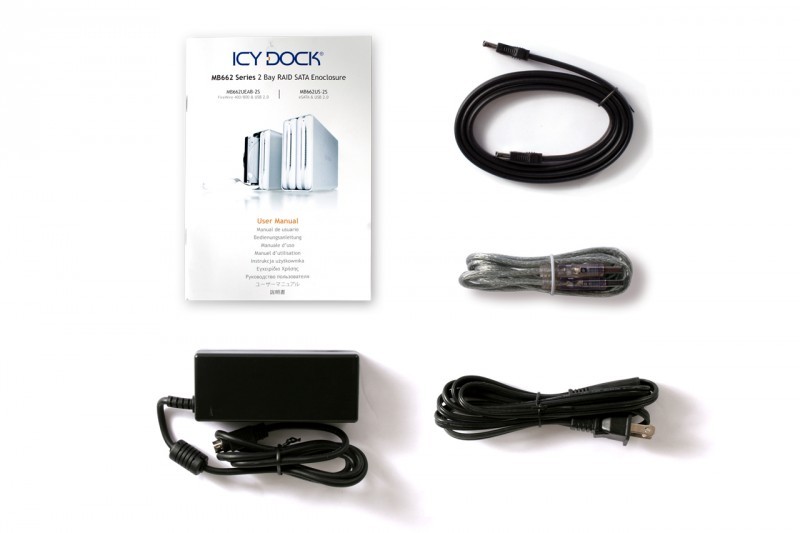 Conclusion
All told the MB622 is a nice sturdy little unit and would certainly fit in well with an aluminium Mac setup. Noise levels can be changed from loud to quiet, although there is no temperature feedback to know what is required. With a total capacity of up to 4TB it's does offer a lot of potential storage space.
In terms of ease-of-use it is simplicity itself. Drives are slotted in, a RAID setting is chosen, and the unit is then available for formatting.
Due to the nature of this review, long-term stability is yet to be ascertained.