A recent escapade in hard drive recovery made me realise that I wasn't doing anywhere near enough to keep my system safe. Forget all about viruses and spyware and all the other computer-based threats; if your hard drive goes kaput then you are seriously screwed.
I looked into various backup software programs, but they all required me to spend considerable time burning DVDs. The best backup routine is one I don't need to think about. My attention then moved on to a secondary, and larger, hard drive that could be used to make an exact copy of my primary drive. No hassle, no fuss, and painless recovery should anything go wrong. That's the theory.
As I have a laptop my only option was to make this drive external. Most hard drive manufacturers make their own external drives, but they tend to be pricey. If you're prepared to handle a few screws and bits of cable then you can get an identical device for a lot less money by purchasing a hard drive and hard drive casing, and putting it together yourself.
After some searching I chose the Icy Box IB-360 external casing, along with a beefy Maxtor hard drive: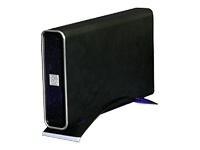 The Icy Box is a very smart looking external casing. There are several models available providing USB, Firewire, and SATA, in silver or black. I chose the 360 specifically for the firewire. Although USB technically provides a slightly higher bandwidth, the difference is not really important in the real world. My experience with an external USB drive is that it sapped computer resources. If I tried to do much else, the performance would decrease dramatically. Not ideal. Some googling suggested that firewire didn't suffer this problem as much.
The box itself is very well made. It's solid and sturdy, and has no wobbly bits. The drive is screwed into a tray which slides into the casing. A set of small screws fasten everything together. A separate stand is provided that allows the drive to sit vertically. This stand has rubber feet and is the preferred method, although there is nothing stopping you laying it horizontally. However, no rubber feet are provided so something may get scratched.
Connections on the back provide DC power, an on/off switch, USB2, and 2 firewire connections. Firewire connections can be chained together, so the extra firewire allows other devices to be attached.
When switched on a blue light glows softly under the casing, and another blue light flashes to indicate drive activity. Both are nice, if unnecessary, features.
With the drive in place and all connections made the power was switched on. Within a few moments Windows XP detected the drive and it appeared in 'My Computer' just like any other drive. This was then partitioned and formatted as normal. No drivers are needed for recent operating system, although a CD is provided with drivers for older ones.
The Icy Box has no fan, and all cooling is passive. The case is basically a large heat-sink, as the name implies. This makes for a very quiet experience, with the noise level determined entirely by the drive being used. This seems to be very effective, and I've never managed to get it past the 'luke-warm' temperature, no matter how intensively the load.
Performance
Some basic speed tests were performed using SiSoft Sandra 2005:
| | |
| --- | --- |
| Firewire: | 33MB/s |
| USB2: | 22MB/s |
| Internal 2.5″ 80GB: | 22MB/s |
So the Firewire connection is faster than my internal hard drive! This in itself is not surprising – 3.5″ drives are faster than 2.5″, but it is surprising that it holds true across an external connection.
Conclusion
The Icy Box has performed almost faultlessly. The only glitch occurred when I decided to plug both the USB and Firewire connectors into the computer at the same time… this foolishness was rewarded with a lost partition. A little tinkering later and this was restored. Idle hands make for a sick computer.
One point worth noting is that the firewire connection uses the Prolific PL3507 chipset. My Icy Box has a recent firmware and I've experienced no problems at all, but a search on the internet reveals a host of problems, particularly under Linux. I can only assume these have been fixed. Either way, the firmware is upgradeable (see this blog for more details).
Good
Very stylish
Sturdy
Great performance
Noiseless
Bad
The Icy Box was purchased from overclockers.co.uk – first time using them, and they gave a very fast service with no fuss.