The advent of digital content has opened up new markets for devices that play them back. DVD players now support DivX, Microsoft is pushing the Media PC platform, and media extenders and wireless streaming products are appearing rapidly. These are all attempts to bridge the gap between consumer product and PC, and the Mediagate MG-25 is no exception.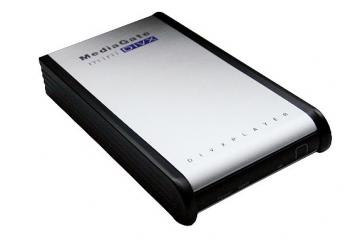 At first glance you would be forgiven for thinking that it is just another external hard drive case, and indeed it is just that, and allows you to encase a 2.5" hard drive with USB2.0 providing the necessary connectivity. Closer inspection reveals more than just the usual USB and power sockets: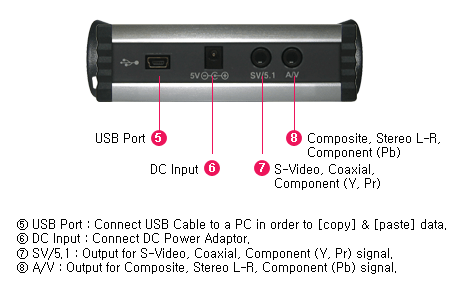 These are AV connections, and allow the box to be connected to a TV and hi-fi. Coupled with the nifty Sigma 8511 MPEG4 chipset inside, it turns your hard drive into a portable media player.
Contents
Bundled with the unit is a wide selection of AV cables, a power supply (2-pin), remote control (with batteries), USB cable, and a quick start guide. Pretty much everything required to operate the unit is included. If you live in Europe and your TV only has a SCART socket, then you'll need to get hold of an S-Video-to-SCART or Composite-to-SCART adaptor.
The unit is reasonably compact. It is the same width and length as other external casings, but it is noticeably deeper. The cause of this is mainly due to the internal Sigma video decoding board, but even with everything packed inside there is still a lot of empty space. With better design the case could have been made smaller and more compact. As it is, it is attractive, if a little chunky.
The front of the case shows the power light, infra-red control, and drive activity light. As shown above, the back has a 5V DC power socket, a mini-USB2.0 socket, and two AV sockets.
The custom cables provided within the package give access to a variety of outputs:
S-Video
Composite
Component
Analogue stereo
Digital coaxial out (e.g. for Dolby and DTS)
All cables except the S-Video are gold plated (or gold coloured anyway!)
Depending on the configuration of your equipment, you may need to make use of one or both of these AV sockets. Although it has not been verified, it should be possible to get a dual-display system working using both the S-Video and composite outputs.
For some reason the Composite/Stereo cable has a right-angle plug, whilst the rest of the cables are all straight. This does look odd, and causes the cable to stick out somewhat.