Staying in Bangkok
Bangkok is teeming with hotels and hostels, but yet finding the right one is very difficult.
A search on the internet will reveal dozens of websites offering the same hotels at slightly different rates, and with slightly different conditions.
It really helps knowing what you are going to do in Bangkok, which in turn will dictate the areas to stay in. The following maps may be of some use:
As a tourist it's a good bet to stay somewhere central, preferably near a BTS or MTR station. Good areas for this are:
Silom – Just South-East of Chinatown, containing Bangkoks business and financial centre, as well as a lot of nightlife.
Siam – Home of Bangkok's biggest shopping malls and high class luxury hotels
Sukhumwit – A giant road apparently running all the way to Cambodia. Plenty of hotels and restaurants, especially in the smaller side roads (known in Thai as 'soi')
Chinatown – Next to most of the popular tourist attractions, as well as providing plenty of Chinese restaurants
Khao San Road – Focal-point for backpackers and low-budget travellers. Full of cheap guesthouses and hostels, with plenty of nightlife and close to the Grand Palace and other attractions. Some consider it a tourist trap.
Be aware that a lot of internet reservation systems are not instant, and a booking will require a 24-48 hour confirmation period. You should ensure an instant confirmation if booking in the next few days.
Rule #3: Know what you've paid, and have all receipts and tickets with you.
Cheaper hotels may try and con you into paying extra charges. Keep all receipts and booking confirmations with you, and know what you've paid and what you need to pay.
Print any online map the hotel may provide. These will help with taxis. Most hotels have location cards, which will also help.
Karnmanee Hotel
Located in the Saphan Khuai area, some way North of Chinatown, this hotel is midway between the airport and Bangkok. The hotel map of the area shows Saphan Khaui BTS station optimistically nearby, despite being a good 15 minutes walk.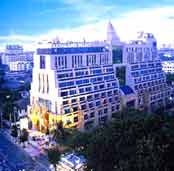 The exterior photos are great. They show a stylish hotel with a nice rooftop pool, and reviews state that it's a reasonable and decent 3 star hotel.
Direct experience reveals a different picture. The hotel is a giant sauna, with air conditioning struggling to touch the cavern-like rooms, and the corridors containing no air conditioning at all. Rooms are very dark and grubby. Bathrooms are the high point, and are large and clean, and contain bath tubs.
Breakfast is included in the price, and takes place in the large restaurant downstairs where you can choose from a small selection of western foods, and a large selection of Chinese food. Fruit juices are on offer, but are watered down.
The hotel clerk did try and extract a 100 baht 'maid cleaning fee' upon arrival. After much protestation, this fee was silently dropped. Be very aware of what you are being charged and don't allow any additional charges to be added, no matter how small.
The surrounding area is not great for a tourist, having little to offer. A 7/11 is directly opposite.
Woraburi Sukhumvit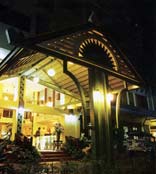 You should know what to expect from a hotel when the only photo you can find is shot at night.
Introducing the Woraburi Sukhumvit. Located on Sukhumvit Soi 4 (remember, Soi is Thai for a smaller side-street), and coming in at 850 baht a night, you really do get what you pay for.
The hotel is reached by Nana BTS Station, an area infamous for attracting older gentlemen and younger ladies. Walking about here at night is not a pleasant experience.
The overriding impression of the hotel room is that it is designed as a cheap place for men to entertain Thai girls. The mini-bar consists of a fridge full of beer, and condoms. A list of prices for items broken is prominently displayed. The clientele consists of backpackers looking for a step-up from a hostel, and older European guys looking for cheap thrills.
Pay more and enjoy yourself in a better hotel. You'll feel less dirty when you leave.