Extended Comments Widget is a plugin that displays extended comment information in a widget… it's good to be obvious!
Features include:
Supplement the standard comments widget with extended information
Configure how many comments are shown
Exclude certain authors from appearing in the list (for example, exclude yourself)
Fully localized
In action this looks like: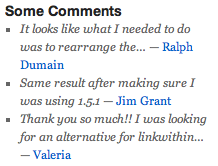 Installation
Installation is like any WordPress plugin:
Download extended-comments-widget.zip
Unzip
Upload extended-comments-widget directory to /wp-content/plugins on your server
Activate the plugin
Add widget to your site from Dashboard > Appearance > Widgets
You can find full details of installing a plugin on the plugin installation page.
Configuration
Configuration is the same as any widget – from the Widgets dashboard page, drag the widget to a sidebar and change the settings.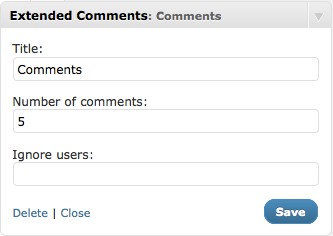 To ignore users just enter the user ID. You can specify multiple users by separating them with a comma. For example: 1,45,34
Support & Bugs
Support and feature requests should be made through the Extended Comments Widget support forum. You can contact me directly but I spend a very limited amount of time on direct support and you stand a better chance of being answered through the forum.